As many of you already know, I was at New York Comic Con this year, and if you've been scouting out my facebook and twitter posts, you are aware that I won my passes, but some of you have asked me how that came to pass.
Here's the story.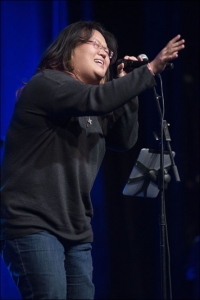 I went looking for events that would be up my speed during Super Week, which is the week of New York Comic Con, where folks can participate at events sponsored by the convention.  I saw there was a karaoke event by my job, so I quickly bought tickets.  It was going to be at the Hard Rock, Times Square.  I was looking forward to taking the stage.
When I got to the venue, folks were starting to flock in.  Realizing that it was going to be live band karaoke, I took the initiative and signed up.  Knowing how these things run, I put in a load of songs, to prevent duplication and to ensure I got up on stage.
I ended up taking a seat close enough to the stage to get some photos and was later joined by two writers for US Weekly who were there to enjoy the event.  The judges were two Broadway producers (Darren Bagert from "Sideshow", Carl Levin from "Rock of Ages", and the upcoming show "Nerds") and the editor-in-chief of Playbill.com, Blake Ross.  Justin Guarini hosted the event, and a bevy of Broadway heavy hitters performed, including Tony Award winners Lena Hall (Hedwig and the Angry Inch), James Iglehart (Aladdin), Tony Award nominee Ramin Karimloo (Les Miserables), James Snyder (If/Then), and Rob Morrison & Wesley Taylor (Nerds).
To be fair, there was some great talent there that night, and when I saw a duo do the Dirty Dancing duet "I Had the Time of My Life" and do the lift, I thought it was pretty much done for.  To be honest, because it seemed like a good portion of the contestants were either friends of the judges or former employees, I thought I didn't have a chance.
As my name was called to go up on stage, and my table mates wished me luck, I decided to do what I always do when I take the stage – don't give a damn and just do it.
So the song they chose out of the lot was Melissa Ethridge's "Come to My Window".  Ok, I'm familiar with that song enough.  It was at a lower key than anticipated.  Made the adjustment.  It was a slightly different version than I recall, so I worked around it.  Tore that song up as best as I could.  During my time on stage, I could hear the audience singing with me, so I encouraged the audience to sing with me by passing the mic.
When I was done, Justin Guarini gave me a huge hug, which wasn't expected and the rest of it was a blur.  From what I gathered from stories I got from press, this is what happened: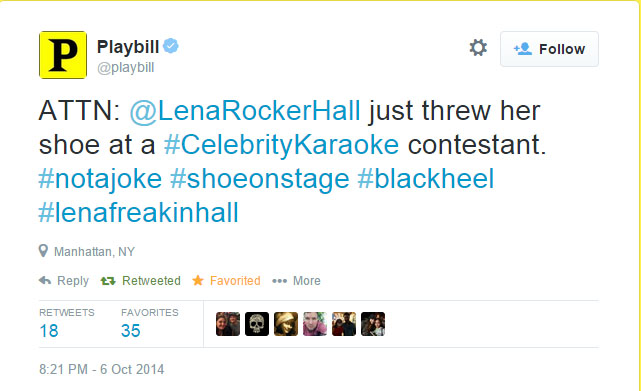 Yeah, the shoe was thrown at me.  Justin mentioned it before I was judged and I found it lying near me on stage.  For those who don't know what this means, it's a sign of respect when you're a performer.  It's not always shoes.  Sometimes it's napkins, clothing, money, and in regards to the old Lenox Lounge, it would be bits of food.
Then you have this quote from Linda Covello at TheExaminer.com:
The judges were very supportive and encouraging of all the performers, but they gave particular high marks to Janifer Cheng, who is a 2011 Women's New York State Karaoke Champion. Her rendition of Melissa Etheridge's "Come To My Window" brought the house down with cheers, whistles and thundering applause. She belted the song like a seasoned pro, and the judges were unanimous across the board in their admiration. Bagert said that he would have auditioned her for "Sideshow" if he hadn't already cast it.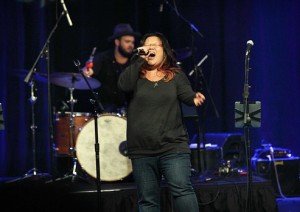 Again, don't really remember anything immediately after that performance except for good reviews from the judges and me shaking like a leaf!  I was the last performer before the break and the last set of performances were pretty stellar.
As the event closed, I was looking for my waiter to pay my check.  The two ladies from US Weekly who were with me had already left for the night.  As I was trying to locate my waiter, the producer of the show asked me to stay.  Knowing that there were several prizes, I thought "great, at least I go home with something".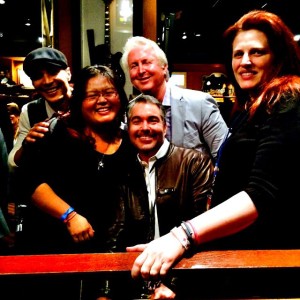 She eventually caught up with me and informed me that I won by unanimous decision.  I was stunned and not expecting that, but hey, I'm not going to argue.  I was asked by both producers if I was an actor.  I didn't really know what to tell them because of all the stuff I've been told about my acting, so I kept it quiet.  I did asked them for a group selfie, which you know was definitely happening.  The majority of the Broadway performers had left by that point, for the exception of Justin, who, as you can see, was behind me in the pic.
Overall, it was an awesome experience, as was New York ComicCon (and that post will come out later via TheMassINvasion).  Thanks everyone who participated and put the event together.  Although I know some folks may think I was a ringer because of my title, fact of the matter is, I'm not a signed recording artist yet and I don't do this for a living.  I do karaoke just to practice material in front of a live audience.  When this starts paying the bills, then you can call me a ringer.
Thanks to ClearChannel, New York Comic Con, the Hard Rock Cafe, @NyAdas (twitter), and you for reading and supporting.
Photos by Playbill.com, Linda Covello for TheExaminer.com, and myself.
And in closing…