I want to thank all of you for sticking with me and for all of you who have just joined us, thank you for becoming fans.  Here's the update.
Singing –
Film/TV–

Dragonfly– On March 17th, I was on set, shooting a music video for the artist VOIA for his song Dragonfly.  I was also the resident Dance Dance Revolution (DDR) New York crew historian.  It stars my friend Seo JiMin as Dragonfly.  The video is presently in post production, but below is a picture of me on set with another friend, television and voice over actor, Matt Visconti.
Poker – 

Poker 4 Life – I'd like to congratulate "Poker 4 Life" for the success of their event on April 18th, 2013.  Yes, I was dealing.  I actually didn't stop dealing until the final table!  Here's one of the promo photos from the event of me dealing (unfortunately it isn't the most flattering).  For those who don't know, Poker 4 Life events benefit The Buoniconti Fund to Cure Paralysis.  This is my second year with them and I havto say, it was a lot of fun.  Check out their website for next year's event for their any upcoming events and information.

If you have questions or would like me to deal in your event, please respond to this post or send me a private message through my facebook fan page.  I work with a number of casino entertainment companies in the New York tri state area.
Body/Mind/Heart/Soul/Spirit –
Body – I'm on a juice fast again.  Presently on day 3.  With the release of the Joe Cross documentary "Fat, Sick & Nearly Dead" available free to watch on YouTube, and the fact that Spring is in the air and Summer is not far behind, I've decided to reboot my system.  If you're curious about my exploits last year, when I did this fast for 10 days, here's my YouTube journal.


Mind – I've created a video think tank for the vids that I edit/film/etc.  With all the work I've been doing for Actors InC (Actors in Christ – a nonprofit group that offers free workshops and classes for actors in New York City), it was bound to happen.  Check out some of the videos, if you like, and if you're interested in checking out an Actors InC workshop, head to the website: www.actorsinchrist.com or the facebook page: facebook.com/actorsinchrist.
Heart – Over the Winter holiday, Jason Sprinzen and I met up to perform the for Actors InC holiday party and was favored with a great response.  This is about the first time I ever got choked up doing a song.  In this rare footage, you can check us out doing Fleetwood Mac's "Landslide".  Thank you to Lawrence H. Robinson for filming.

Soul -For those of you who are of the Christian faith, I recently completed the Cleansing Stream course through MSNY, and I have to admit, it did me a lot of good.  Cleansing Stream is a 7 week course of emotional healing and understanding.  Although this season's course has just ended, there will most likely be an Autumn course some time in September or October.
As for my personal experiences, one particular I will say is this.  There were a lot of issues I personally had with unforgiveness that I did not know I had towards others.  There were also issues I thought I had, and thought I knew about,  but were based on totally another issue I did not know was the true cause.  It was to the point that I felt something physically lob itself off of me.  It was a very powerful 7 weeks and I am happy I went through it.
Spirit – During Cleansing Stream, I was designated the prayer partner of am amazing woman who is right now going through her 3rd bout with Cancer.  Joelle Richa, a 35 year old Lebanese woman, is right now battling stage 4 lung cancer.  As she's fighting her disease, she's preaching the gospel in hopes that it will help others who are also battling their illnesses.  If you're interested in her fight, or offering prayer to help, you can join her facebook page "Support Joelle's Fight".

Gratitude – I want to thank Mary Hudson for helping me get baptized in the Holy Spirit.  If she looks familiar to you, Mary Hudson is not only a minister with her husband Keith (Keith Hudson Ministries), she's also the mother of pop recording artist Katy Perry, which you might have seen in Katy's movie autobiography "Part of Me", which was released last year. It was a truly unexpected situation,  and I won't get into the details, unless you ask me in person, but I want to take a moment to thank her.  Mary is a very powerful woman and I truly appreciate and respect her and for what she did for us that night.  Thank you.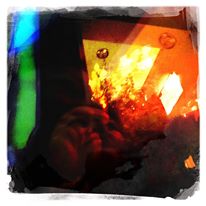 A few parting words…
I've been thinking about adding an album with just my photography to this site, since I do a lot of it.  If you're ever interested, you can join me on instagram.  I like playing around with filters and apps quite a bit.

I want to thank my friends, supports, brothers and sister in Christ, particularly Melissa W, who has been an above and beyond friend and sister to me and I'm immensely grateful for her friendship and patience.
If you have any questions, have any antidotes you'd like to share, please feel free to comment!  I look forward to hearing from you.
Love you all! <3
-Janifer
[soundcloud url="http://api.soundcloud.com/tracks/63829727″ params="" width=" 100%" height="166″ iframe="true" /]
"Keep on asking, and you will receive what you ask for.  Keep on seeking, and you will find.  Keep on knocking, and the door will be opened to you." – Matthew 7:7 (NLT)